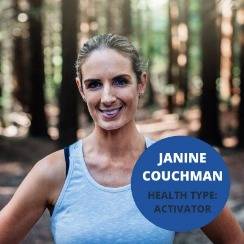 For Janine, Personal Training combines her love of health and fitness with her passion for helping others. She has a background in research and evaluation and an interest in evidence-informed practice. Janine completed her Post-Graduate studies in Psychology with the goal of using her skills to create meaningful change with individuals. Janine believes in having fun and that change happens when you feel good. Janine understands the challenges and importance of making time for yourself with young kids, multiple priorities or a busy schedule.She loves to run, and has participated in countless events ranging from 5k to Ultra-marathons. Janine is working her way through New Zealand's 'Great Walks'and has a dream to run the Te Araroa trail. Whatever your goals are, Janine would love to help you reach them.
Personal Training Focus:
One on one training
Run coaching
Strength and conditioning
Nutrition, health and lifestyle
Behaviour change using evidence-based approaches
Effective post-pregnancy exercise

Qualifications:
National Certificate in Exercise

Holistic Movement Coaching (Body and Business Series, Better Coaching Workshop)
Certificate in Plant Based Nutrition (Cornell University)
Bachelor of Science (Psychology)
Graduate Diploma in Science (Health Psychology)
Masters in Educational Psychology (Victoria University)

Favourite Quote:
"Your health is the most valuable thing you can have. Make yourself a priority."