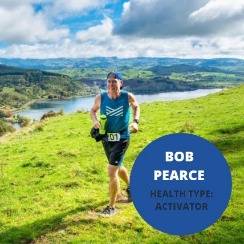 Most people find change difficult. Bob believes that we are the experts of our selves. Over the past 40 years he has been developing expertise on "How to Change". Supporting people in overcoming obstacles and achieving their goals.
With our shared expertise you can make changes and learn to do the things that matter to you. Not get stuck on thinking "what's the matter with me"
Personal Training Focus:
Keeping or getting mobile.
Injury recovery and/or maintaining fitness, strength and mobility as we move into the third stage of life.
Holistic approach to health and fitness,
Lifestyle, mental health and physical health in a coordinated way.
Qualifications:
National Certificate in Exercise
Holistic Movement Coaching (Body and Business Series, Better Coaching Workshop)
Registered Mental Health Nurse
Post graduate Certificate in Cognitive Behavourial Therapy
Favourite Quote:
"It's not what is going on in your life that causes stress it's what you think about what's going on in your life."